---
Free Online Stress Evaluation
Sponsored by
BBI / Karma-Net
---

The best selection of Japanese Kanji Tattoo Designs available online!
It's simple! Choose from 5 available font styles and tell us what word you'd like designed. Your Custom Kanji is sent by e-mail file direct from Japan. Enter the Kanji Store!
Japanese symbols, otherwise known as Kanji symbols or characters, originated in China thousands of years ago.
Here's an example of how Kanji is "put-together". Notice how there are several words (top left) that can be represented by this single kanji. Also notice how the meaning of this kanji changes in the various sentences. If you print this page, you can practice the strokes necessary to recreate this symbol.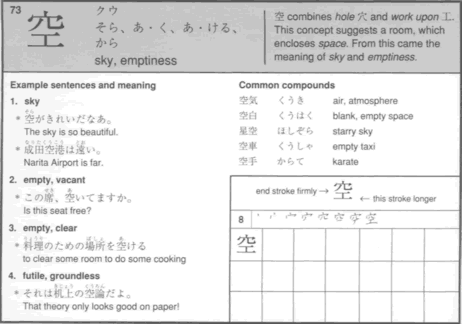 This exercise comes from one of our favorite Kanji books. It's called "Kanji Power" by John Millen. With this book you will learn 240 essential Kanji.
There are several quizzes and progress tests as well. Buy this and other great items online from Karma-Net through our partner, Amazon.Com!
---
Can't Find What You're Looking For?
Try Google Search!
---
The Karma-Net Community List
Join our well-known update list - over 20,000 subscribers
strong! Just enter your name and primary email below.
Large bronze Buddha statue. Garden / Indoor / Outdoor. Double lotus base.
$375 with $20 shipping anywhere in the continental U.S.A.

---

---

Detaching the World
Ambient Music for Massage / Relaxation / Meditation

"In a quest to create the "perfect" music for massage sessions, musician Emil Gagliardi has produced Detaching The World: Ambient Music for Massage, Relaxation, and Meditation. With a length of just more than one hour, Detaching the World is perfect for most bodywork sessions." - Massage and Bodywork Magazine

Buy your copy today!
Only $14.95 + 2.95 S&H Shipped Fast by U.S. Priority Mail!
Go to the Japanese Symbols Main Page
Teach English in Japan! Learn How!
Check our online course listings!
---

New on Karma-Net: You can now find your name or any word in 6 different Japanese Kanji Fonts! Custom Japanese symbol orders available, along with many other Kanji products at Karma-Net Shop.
Click Here